Posting early this week to prevent the incoming Canada trip from interfering with my ability to get this comic out weekly.

When last we saw our heroine, she was drawn with the Brush tool at 72 ppi. Today, our story picks up mid-scene with the events now drawn using the Pencil tool at 600 ppi. NOTE THE DIFFERENCE CAREFULLY. However, the increased canvas size and unfamiliar tool resulted in a bit of confused blocking and so the first few panels are a bit more incomprehensible than they should be; what should have been a fairly straightforward illustration of afterimages to indicate speed became something that just looks odd due to a surprisingly large amount of leftover SPACE in the right-hand side of the panel. Them's the breaks; I did mention I'm learning as I go, and part of that means I'm learning how not to do things, too. (It looked cool in my head! And in thumbnail form! D: Whyyy does it have to suck in the finished product.) So yeah, it shouldn't look that bad, but rest assured the mistake has been noted and will hopefully never happen again.

This week was fighty time, next week is BLOOD, BLOOD, BLOOD. :3

(Yes, that's a ninja.)

-TZ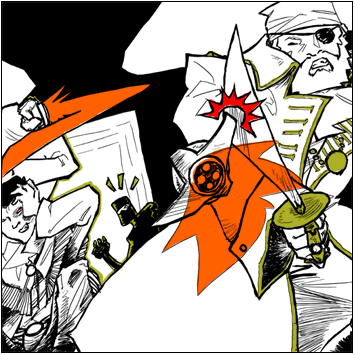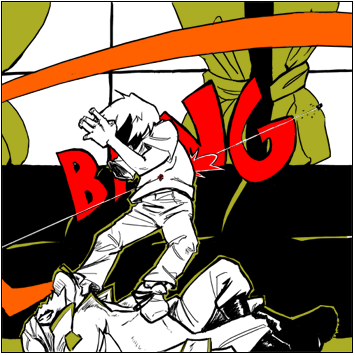 ROCK SOCKET: Part 1
ROCK SOCKET: Part 2
ROCK SOCKET: Part 3

View ROCK SOCKET as a Flickr slideshow here!

And in apology for missing last week, I made you, the faithful readers of ROCK SOCKET - all ten of you - a v. special wallpaper to use (or not) as you see fit!